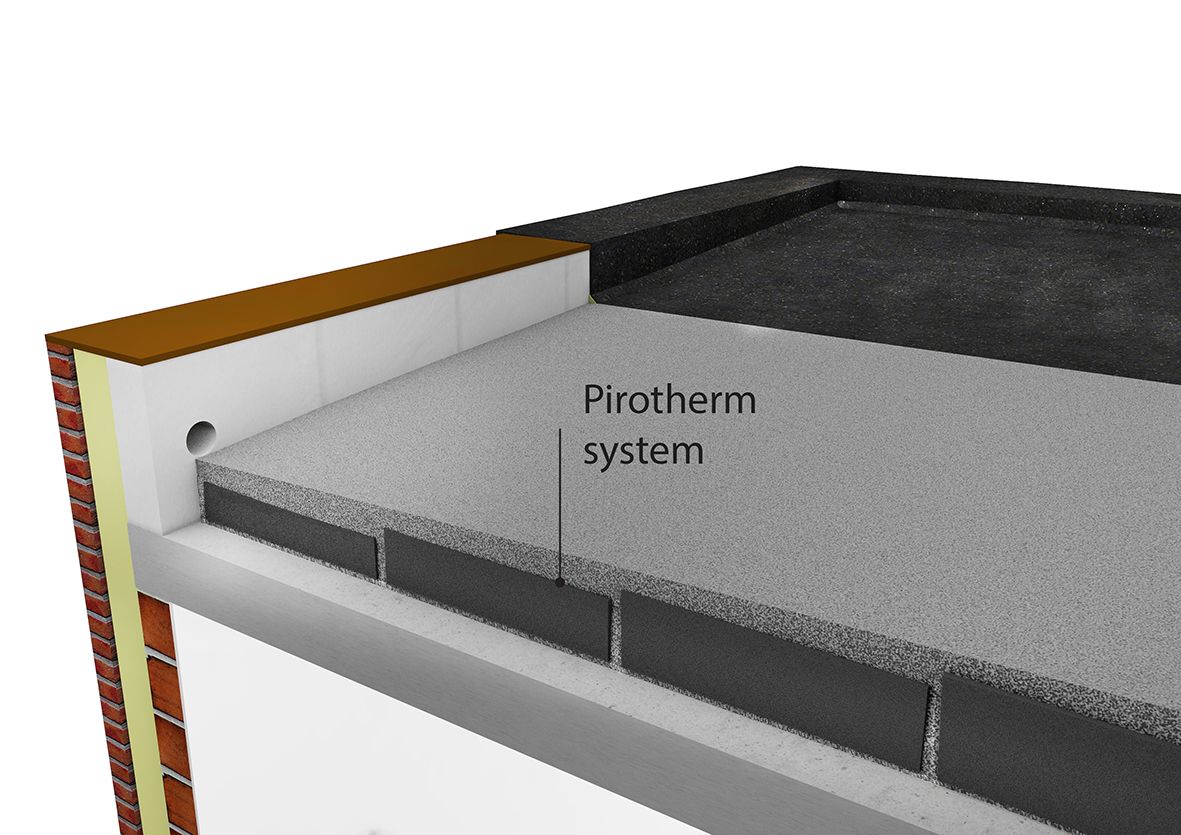 The Pirotherm system is a perfect insulation system for all types of flat roofs: from small renovations to large-scale new construction projects.
The Pirotherm system combines Pirotherm insulating mortar with EPS panels to form a strongly insulating fall layer for flat roofs, for both new construction and renovation. Any desired U value (= insulation value) can be realised.
The Pirotherm system replaces three components of the traditional roof structure: vapour barrier, sloping screed and insulation panels, resulting in shorter execution time and lower costs.
The Pirotherm system is the ideal base for every roof waterproofing system:
- both bituminous and synthetic
- loose-fitting, partially bonded and fully bonded
- both hot-welded and cold-bound
Perfect gradient
The Pirotherm system is a flexible system in which a perfect multi-sided gradient can be created easily, regardless of the flatness of the base. The gradient prevents annoying and harmful puddles and forms the ideal basis for all types of roof ballast layers: gravel, terraces, green roofs, etc., as well as for unladen roofs.
The secret of this is the EPS panels with different thicknesses embedded in Pirotherm mortar.
Non-combustible
Pirotherm has outstanding resistance to fire. 
In case of a roof fire, only the roof covering with any ballast layer can be damaged; the Pirotherm system protects the underlying structural elements
This important characteristic has already saved many buildings from disaster during a roof fire. (see articles 'The importance of proven fire resistance' from Dakenraad and 'Pirotherm system prevented a disaster' from De Dakdekker)
Insulation system for parking roofs
Thanks to the very high compressive strength of the Pirotherm system, it is also the perfect insulation for use on parking roofs. All conceivable finishes are possible: concrete tiles, cement, mastic asphalt, etc.
Quality guarantee
To guarantee that every flat roof is executed perfectly, the Pirotherm system is installed exclusively by recognised implementation companies, Thiers-Horizon nv and Eltherm. In addition, the Pirotherm system has already been produced for 50 years and is ATG-certified.
Perfect roof insulation
With the Pirotherm system, thermal bridges cannot occur. This is because the entire unit is installed seamlessly and without interruptions.
Applications on domes, eaves, ascending structural components, and more are also perfectly feasible.
Pirotherm mortar
- Thermal conductivity (λui): 0.12 W/m.K
(λue): 0.14 W/m.K
- Volume weight (dry): +- 350 kg/m³
- Compressive strength fcm: > 0.8 N/mm²
- Vapour diffusion resistance factor: 9
- Fire reaction: class A2 (EN 13501-1)
Pirotherm system
the properties below are dependent on the system thicknesses used
- Any desired R-value is possible.
- Mass per square unit: +- 25-45 kg/m³
- Great strength and stability: class D (EUtgb insulation)
- Fire reaction: class Broof (t1) (EN 13501-5)